Why Entrepreneurs Are Turning to Coral Reefs
Written by Kat Brown, Director, Marketing
For those that have an environmental or sustainable interest in the ocean, coral reefs are not a niche interest. As ecosystems, they are not only important to the ocean's well-being, they're absolutely vital. Coral reefs support 25% of the ocean's diversity — the equivalent of nearly 2 million species — and urgency around their survival is growing. With the compounding threats of ocean warming and acidification, pollution, and increasingly volatile weather events, the world has lost over half of its coral reefs in the past 30 years. Worse still, the US National Oceanic and Atmospheric Administration estimates that by 2050 nearly all the world's reefs will be at risk.
One of the biggest physical manifestations of these distressing statistics is the rise of coral bleaching — when corals expel the algae that normally live inside their tissue. Coral bleaching rids coral of their protective layer, leaving them vulnerable to disease, stunted growth, and ultimately upending the ecosystems for fish and all other fauna that depend upon corals for survival.
As coral bleaching began its devastating spread in the 1970s, marine biologists were moved to dramatic action. Up until this point in the ocean's tense history with humans, the name of the game had been conservation. Now, scared of what was to come, dedicated scientists began to develop active restoration techniques.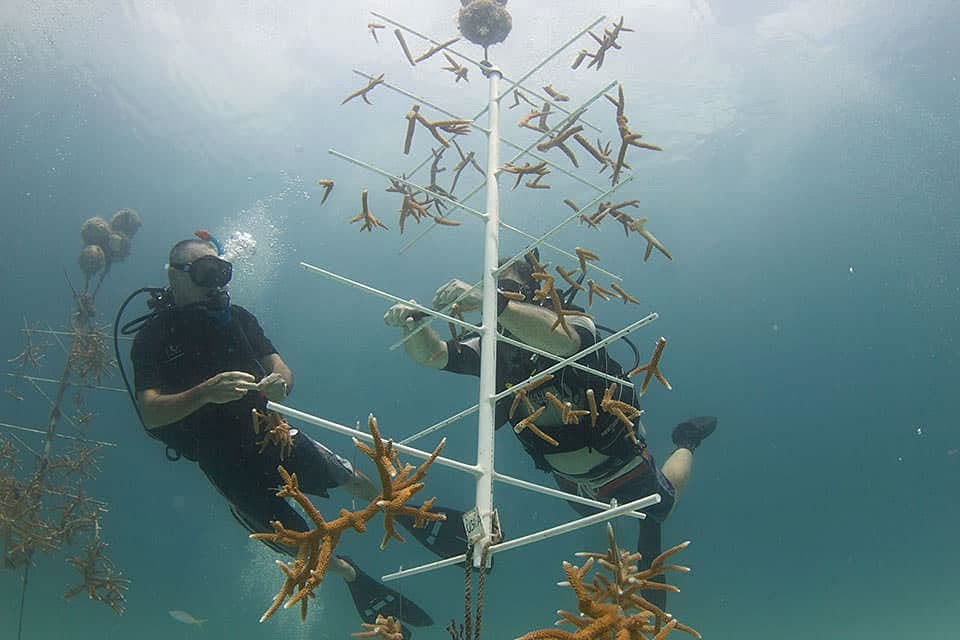 Image: Oceanservice.noaa.gov
Drawing inspiration from silviculture — aka the art and science of controlling tree growth — scientists began taking small pieces from reefs, or rescuing broken pieces from these same reefs, and developing underwater coral "farms." Through these underwater farms, they were able to tend to the small fragments, encouraging their growth until they were large enough to be grafted back onto the original reef structure. Most of these farms focused on the staghorn coral and elkhorn coral, both because they are some of the fastest-growing corals, as well as because they were bleaching in huge amounts. By 2006, despite decades of restoration efforts, they would become the first corals to be placed under protection of the Endangered Species Act.
While these in-situ coral farms are still an important technique used for reef restoration today, one company has pushed the envelope on coral restoration by perfecting new methodologies and technologies — and in the process is giving a new age of coral farming its sea legs.
A Sea Change: Coral Farming Comes Ashore
Coral Vita is the world's first commercial land-based coral farm. While land-based coral farms have been considered in the past, the high cost typically associated with maintaining a coral habitat on land has kept ex-situ farms from cropping up in any meaningful way. They also require more experienced staff who are trained in water chemistry and aquarium husbandry, since they don't have the benefit of the self-regulating ocean to foster their precious cargo.
However, when weighing the costs and benefits, Coral Vita decided to take the plunge. Or rather, not take the plunge, and keep their coral farm ashore for a few key reasons. While the barriers may be higher, the benefit is more freedom. In-situ coral farming limits the type of corals scientists are able to grow to whatever is native to that patch of ocean. In contrast, ex-situ farms can manipulate their tank environments to reflect the Pacific Ocean, Indian Ocean, or anything in between.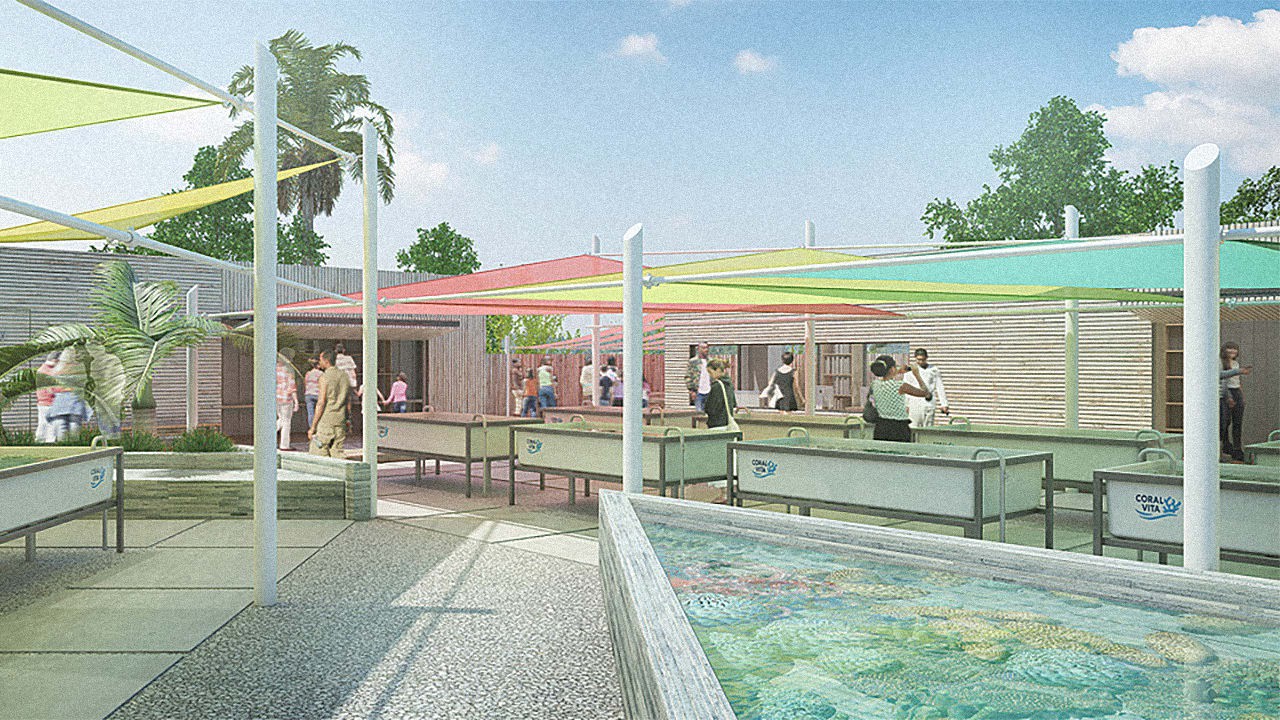 Image: Coral Vita
By having complete control over a coral's growing conditions, Coral Vita can also engineer coral to become more resistant to threats such as increased water acidification and higher temperatures. This allows the coral to become more resilient, so that by the time it is restored to the reef it has a higher chance of surviving, even as ocean temperatures continue to rise.
Coral Vita's other pioneering technique is the perfection of microfragmenting coral. Microfragmentation is the process of removing coral fragments from the ocean and breaking them into small pieces. This stimulates tissue growth, allowing fragments to grow into clones at up to 50 times the normal rate in land-based nurseries. Coral Vita states that this process allows them to grow "mature and diverse species in months rather than decades."
Together, these methodologies mean that Coral Vita is opening up a new frontier of land-based coral farming, all while educating people through their joint lab and teaching institute. This two-pronged approach of innovation and education will (hopefully) encourage the creation of more resilient reefs and more responsible legislation.
For those who are interested in supporting Coral Vita's work, you can Adopt a Coral at their website. Whether or not you choose to adopt today, addressing a challenge as complex as reef restoration and ocean protection is going to require everyone to chip in, from developing new technology, pushing for changes in policy, and even just spreading the word about the work that is being done.