Q&A with Dr. Amanda Vaughn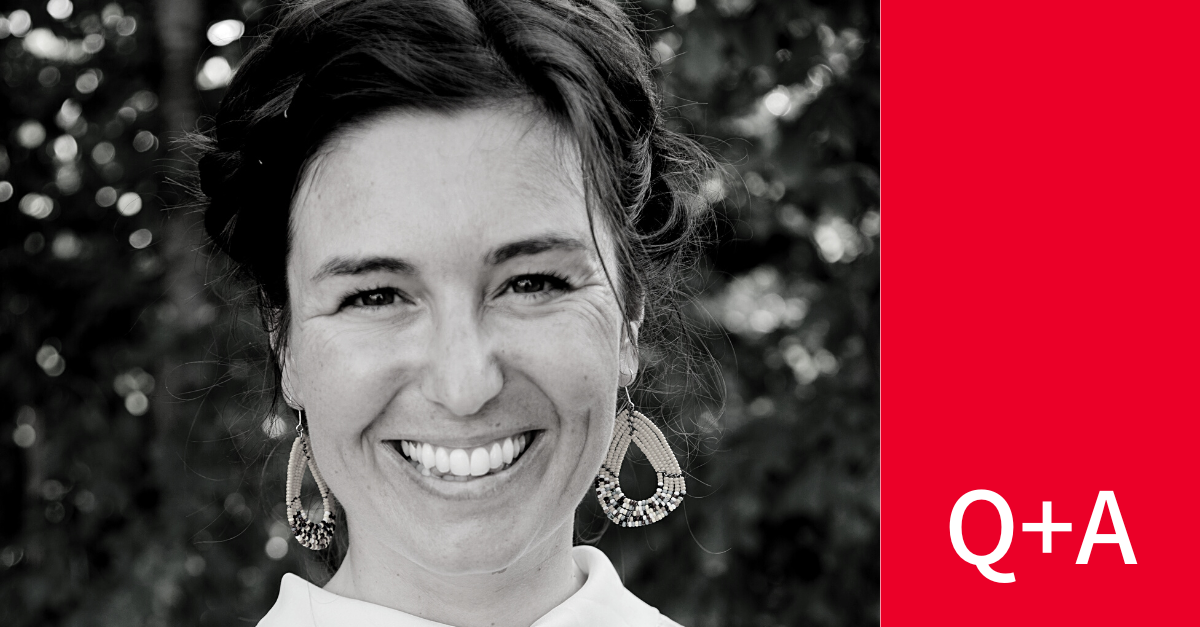 Tell us about yourself — what is your background in and how did you end up in your current position?
I studied Chemistry and German during undergrad at the University of Florida and then went on to complete my PhD in Biochemistry from the University of Texas at Austin. Specifically, my thesis work under Dr. Dean Appling focused on mitochondrial one carbon metabolism during development. I utilized mitochondrial radiolabeling as well as mass spectrometry imaging to analyze the metabotype of the developing mouse brain in the absence of folate enzyme Mthfd1l.
Upon completing my PhD, I began work at the UT Office of Technology Commercialization, where I advanced my understanding of the biotech space and commercial products which began in the academic forum. This work inspired me to transition to industry completely, which is where my journey began at Aeglea Biotherapeutics. I began working as a scientist on the research team, where I helped advance pipeline projects and my understanding of protein engineering. My passion for science communication motivated me to pursue a position in medical affairs, where I am now working as a Medical Science Liaison.
Tell us about your company and its work with enzyme therapeutics?
Aeglea specializes in developing novel human enzyme therapies for patients with rare metabolic disorders. We are based in Austin, and engineer native human enzymes with enhanced properties and novel activity. We are on a mission to develop treatments addressing rare metabolic diseases that have been otherwise overlooked.
What drew you to the study of protein structures?
The study of biochemistry is rooted in structural biology and how proteins catalyze chemical reactions, hence my exposure to the structure of proteins. Early on in my studies of biochemistry, I learned that proteins structurally respond to temperature and pressure conditions, in turn modulating their functionality. That conditional response giving rise to the appropriate biochemical outcome grabbed my attention early on, inspiring me to narrow my Chemistry focus along a biochemistry track.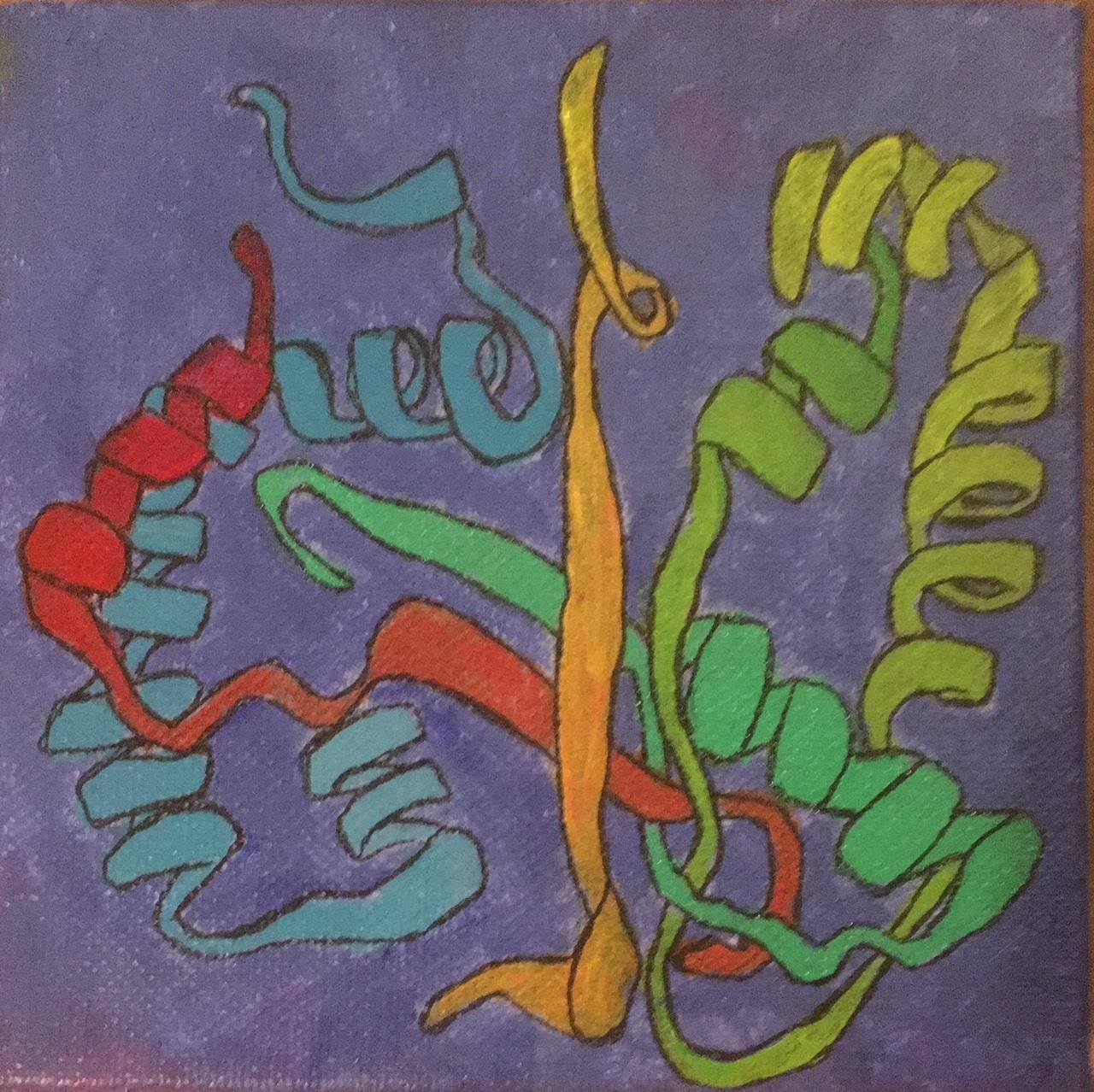 Herc5 by Dr. Amanda Vaughn
What do you wish more people knew about in regards to human enzymes and the study of our metabolisms?
We are composed of billions of cells, and within each of those cells a fleet of thousands of proteins allow for each cell to perform a specialized task. By understanding these proteins that collaborate to keep each cell functioning collectively to sustain life, we gain a clearer picture of metabolism and thereby cellular health and homeostasis. These pathways are the blueprint of life, and how the food we consume is routed into our bodies to keep us alive. To think that it all boils down to molecular structures that attract, repel, and come together in a lock-and-key fashion to move electrons and transform molecules, is revolutionary.
Are there any breakthroughs in your field you are most eagerly anticipating?
The accessibility to at-home testing and healthcare as motivated by the current pandemic is an exciting opportunity to obtain more biochemical profiling and data to better characterize individuals. This information can be used for cross sectional analysis, but also in a case study fashion that will better elucidate the unique metabolic fingerprints humans possess.
For you, are science and art related? Or are they at odds with one another?
I have always turned to art not only to flex other approaches to ideas, but also to better understand and visualize abstract scientific thought. Whereas science generally utilizes reductive and generalized modes to convey theories, laws, and concepts, art turns to abstraction to convey ideas. In this sense, art is a valuable tool that can be used to better illustrate the intricate ideas often described verbosely through traditional scientific literature.
In a recent showing of your art, you highlighted 9 "seldom referenced" women in science. How does your own experience being a woman in STEM inspire your work?
As a woman in STEM, I often feel outnumbered by my male colleagues, not only in present science-based forums, but particularly as conveyed through history. My recent portraits of female scientists throughout history are meant to triumph and honor the women whose contributions to science have been silenced due to their place in society. By painting them on drumheads in a folkloric style, I aimed to present their legacies as so many men throughout history have been honored on the faces of coins, as icons — although these icons are only known to us via storytelling.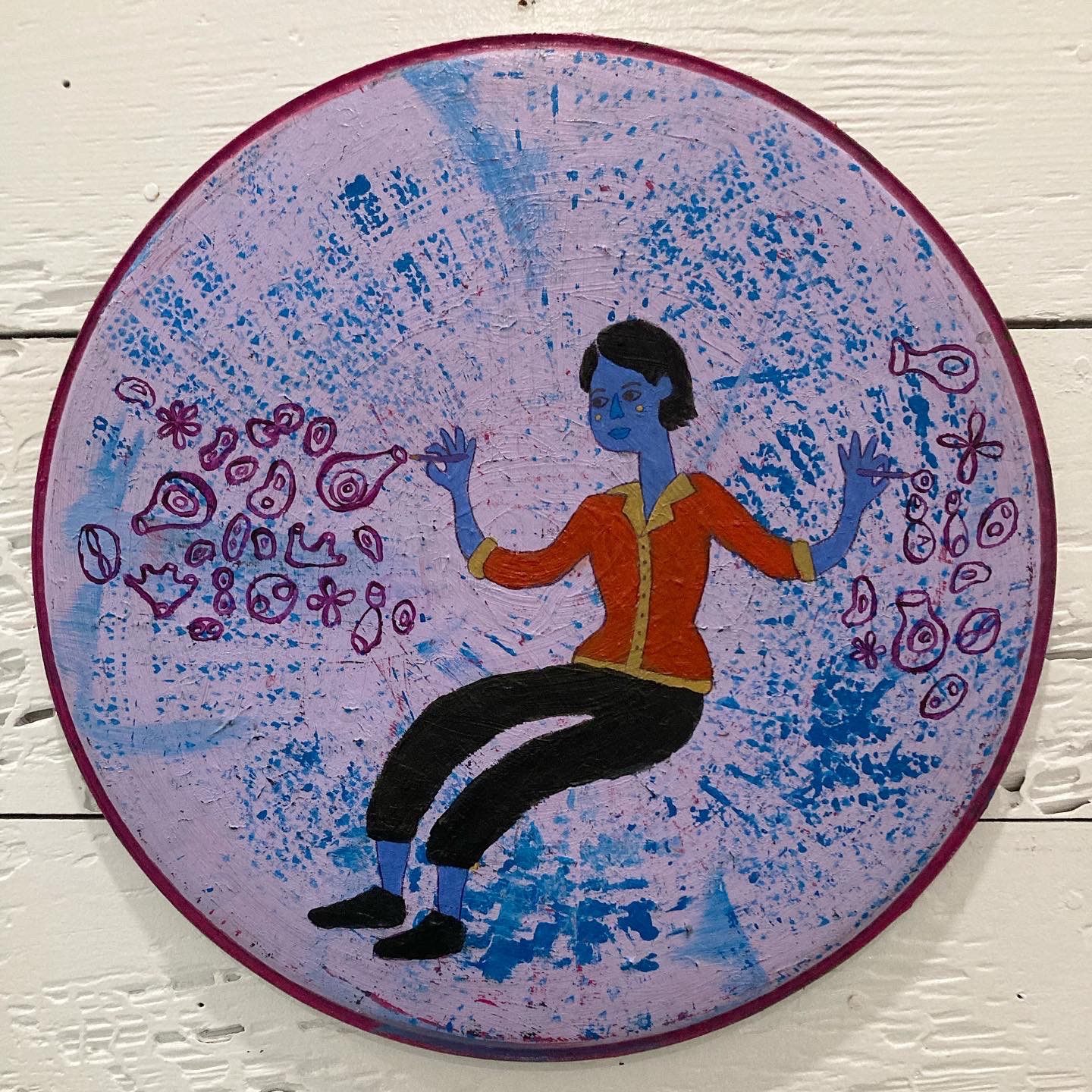 Maryam Mirzakhani by Dr. Amanda Vaughn
The challenge of becoming a STEM professional is daunting enough, but to do so as a woman it is far greater due to social precedents. Without these women and the countless others that have come before us, it would be impossible for me and other women in STEM to be where we are today.
What lessons should scientists learn from artists?
Scientists can benefit from stepping away from mental traps and limited focus, which so often happens in very specialized fields. Looking at science through an artistic lens encourages creative thought, an essential aspect to the problem solving so central to scientific thought.